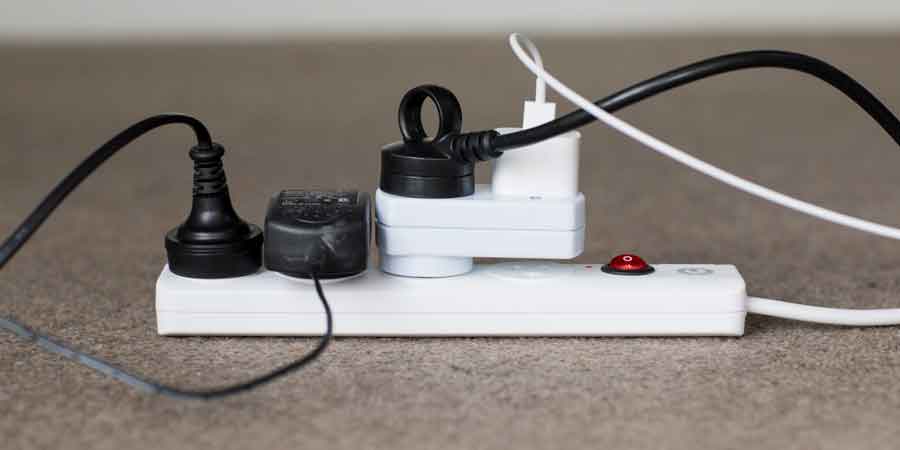 Electrical Safety Tips for your Home
Not all electrical accidents can be avoided. Here's a few quick, handy electrical safety tips to help keep you, your family and your home safe.
1. Don't overload your power points
Nobody likes being overloaded with work, and if this is the case daily, or weekly, then eventually you're bound to become stressed and burnt out, right?! The same concept goes for your power points.
If you live in an older, traditional home, then you may find that you only have one or two power points in each bedroom. And you have more than two electrical items to charge or use.
Try not to plug numerous items into a double adapter, multi-box or use multiple extension cords. We know it's tempting (just like a nice, cold beer!) to create little plug pile nations but doing so regularly can lead to a high risk of power point overload or an electrical fire. It's not pretty.
Remember to only plug one heat-producing appliance into a power point at any time too.
If need be, get an electrician to install more power points into the room for you so you can safely run as many appliances as you need.
2. Childproof your power points
Let's face it, young children can be fascinated by electrical appliances and power points. To help prevent your children from sticking foreign objects into the plug holes and those little fingers from getting zapped, we advise purchasing socket covers for unused power points. Socket cover packs can be purchased at places such as The Warehouse or Bunnings for often as little as $5. You can also talk to an electrician about investing in child safe power point.
Educating our children about electrical safety is just as important as teaching them not to talk to strangers and how to cross roads safely. Children shouldn't learn about the dangers of electricity through experimentation.
3. Buzzing noise coming from a power point?
If you hear a buzzing noise coming from a power point in your home, then it means there's an issue with the power point. If this is the case, then remove the plug, switch the electrical outlet off at the wall and call an electrician immediately.
4. Unplug unused appliances
Yes, we know we're being 'Captain Obvious' but this one is just too easy to forget. Turn off and unplug those appliances you don't need. Doing so will save you power by reducing the energy the appliance consumes even when not actively in use, as well as prevent them from overheating.
5. Replace everyday light bulbs safely
If you haven't yet upgraded to LED downlights, then changing light bulbs are probably on your to-do list.
When changing the bulb, ensure you turn off the fixture first, and replace it with a bulb that has the correct wattage for the fixture. Using a higher wattage bulb can cause the fixture to overheat and potentially cause damage to the light bulb and the fixture. Nobody likes being in a sauna 24/7, not even a light fixture.
Try switching to an LED bulb as they provide the same level of light at a lower wattage level, which is safer, nicer on your wallet and better for the environment – a win, win right?!
Leading Electrical Ltd
Leading Electrical's registered electricians are committed to electrical safety. For more information or to help minimise electrical accidents to you or your home, contact us today.