Choosing the Best Electrician
A faulty wiring system in a home is a fire that is waiting to happen. Since 1 January 2012, there have been over 9.826 electrical fire incidents across all regions of New Zealand (Fire and Emergency New Zealand, 2018). Therefore, it's important to use an expert to complete electrical jobs to help minimise the risk.
With so many electricians to choose from, how do you know which one is a good one? Well, here's some quick tips:
Tip 1: Check the Electrician is NZ Registered
You can do this by looking at their website and asking if you can look at their Electrical Workers Registration Board (EWRB) licence. This licence is similar to car licence as all electricians must carry this around at all times when practicing.
To gain the licence, Electricians are required to complete specific qualifications. These are: the National Certificate in Electrical Engineering – Electrician for Registration (L4) or the National Certificate in Electrical Supply – Electrician (L4).
The licence will state whether they are a Trainee Electrician or a Registered Electrician. If they cannot provide the requested licence, then they are unlikely to be registered.
The EWRB regularly audits electricians, as well undertakes various other activities. This is to ensure the competence of electrical workers and therefore the safety of New Zealanders.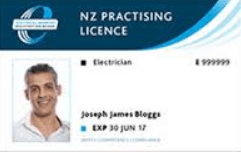 Tip 2: Check they are a Master Electrician
If the electrical contractor is a Master Electrician then it can help to ensure that the electrical work they undertake is of high quality. They also provide a workmanship guarantee of 12 months from the date of work completion. This can therefore provide you with extra assurance that they'll do a good job.
Tip 3: Gain Recommendations from your Network
Start talking to the people around you (family, friends and neighbours) about their recommendations on electricians. Ask about the scope of their project, the cost and whether they were satisfied with the completed job.
Tip 4: Get an Estimate
Meeting the electrician personally and having them visit your property/business is ideal. You can do this by requesting an on-site estimate which is usually free.
The cheapest price isn't always the best. Anything that looks too good to be true usually is. Read through the estimate carefully to ensure they've covered all bases. Otherwise, you could end up paying more in the end. Prioritise quality, safety and service.
Take note about the electrician's concerns as you speak with them about your project. Are they concerned about what you're trying to accomplish? Do they care about your needs and the needs of your property?
Tip 5: Find out what kind of work the electrician has completed in the past
This will help you to determine the experience of the electrician. Does the electrician specialise in residential work? If so, then they'll have experience undertaking electrical work with minimal damage to the walls and property.
Conclusion
By following all the above items, it's likely that you'll choose the best electrician to help with your job/project.
For more tips and advice, check out our other blog articles.
Leading Electrical provides electrical work that is safe, compliant and expertly carried out. Whether you need small repairs or large installations, contact us today.